METU MESOCOSM SYSTEM 2018
Last Updated:
20/05/2020 - 14:19
AQUACOSM PROJECT
Project Information
Aquatic research is still divided in marine and freshwater sciences, with separate funding sources, and experimental science is often conducted at single sites without international coordination. To challenge these problems, the FvB-IGB-lead project AQUACOSM is funded by the first international call (EU H2020-INFRAIA) to coordinate research, develop common best practices and open both freshwater and marine large-scale research infrastructures (mesocosms) for international cross-discipline participation.
Project Title: EU H2020-INFRAIA-project No 731065 "AQUACOSM: Network of Leading European AQUAtic MesoCOSM Facilities Connecting Mountains to Oceans from the Arctic to the Mediterranean"
Duration: 01/2017-12/2020
Funded by: European Commission, Directorate-General for Research & Innovation, Budget 9,999,807 €
Direction: Dr. Jens Nejstgaard (Project leader), nejstgaard@igb-berlin.de, Dr. Stella Berger (Transnational Access leader), berger@igb-berlin.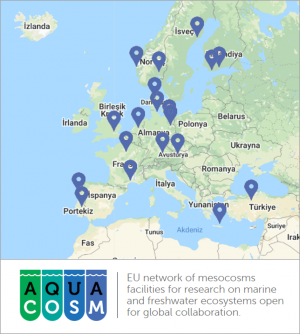 Project partners: Aarhus University, AREFSENS Electronics Inc., Blue Lobster IT Ltd, Centro de Biodiversidade e Recursos Genéticos – Universidade de Évora, CNRS – MARine Biodiversity-Exploitation and Conservation, Ecole Normale Supérieure, Finnish Environment Institute-Marine Research Centre, Forschungsverbund Berlin e.V. – Leibniz-Institut für Gewässerökologie und Binnenfischerei, GEOMAR Helmholtz Centre for Ocean Research Kiel, Hellenic Centre for Marine Research, Imperial College of Science Technology and Medicine, Ludwig-Maximilians-Universität, Middle East Technical University, Netherlands Institute of Ecology, Norwegian Institute for Water Research, Umeå Marine Science Center, Umweltbundesamt, Uni Research AS, University of Bergen, University of Helsinki-Tvärminne Zoological Station, WasserCluster Lunz-Biologische Station GmbH
As a partner of AQUACOSM, METU MESOCOSM SYSTEM hosts researchers worldwide and together they conduct research on the impacts of climate change in freshwater ecosystem using METU Mesocosm System. For more information on the AQUACOSM project, please visit the project website at https://www.aquacosm.eu/.
METU MESOCOSM SYSTEM 2018 PROJECT:
MICROPLASTICS– Impacts of microplastics in shallow freshwater lakes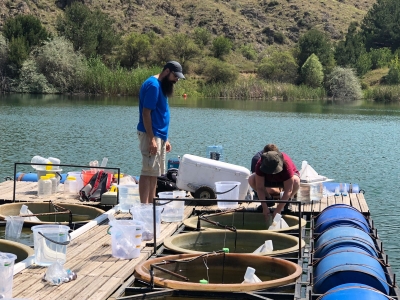 Time and Location
The 2018 mesocosm experiment was conducted at METU Mesocosm System at METU Experimental Lake (Lake Golet) between 18 June – 06 August 2018.
Objective
The primary objective of the experiment was to evaluate the effects of microplastics (MP) in shallow freshwater lakes by exposing surface, water column and sediment of mesocosms simultaneously to the environmentally relevant mixture of various microplastic polymers.
Hypothesis
The following hypothesis were tested in this 2018 mesocosm study (1) MPs found in the water column would stay long enough time be ingested by zooplankton and this ingestion would likely cause a reduction on zooplankton biomass especially in the high concentration; (2) MPs in the sediment would be ingested by the sediment dwelling community that would cause and observable effect of morphometry and emergence pattern; (3) MPs would be transferred between trophic levels through the ingestion of MPs by prey and predation.
Mesocosm Set-up
For this purpose, METU Mesocosm System at Lake Golet was used with 12 mesocosms with 3x4 factorial design. There were 4 tanks with Low MP Dose (L-MP) having environmentally realistic MP concentrations (0.007 g MP/m2 of surface water; 2 g MP/m3 for water column; and 8 g MP/m2 of sediment), 4 future scenario tanks with High MP Dose (H-MP) having 10x higher concentrations than L-MP, and 4 tanks with Control (C) having no MP additions. Based on the available freshwater literature on the composition of microplastics in various compartments, we exposed sediment layer with the following MP composition: 45% polyethylene; 20 % polystyrene; 15% poplypropylene; 10% polyamide; and 10 % polyvinylchloride. On the other hand, surface layer was exposed to 50% polyethylene; 40% poplypropylene; and 10% polystyrene. For the water column, we used fluorescently-labelled polyethylene (50% green polyethylene with 63-75 µm in diameter, 50% red polyethylene with 10-45 in diameter) to track ingestion and transfer of MP between trophic groups.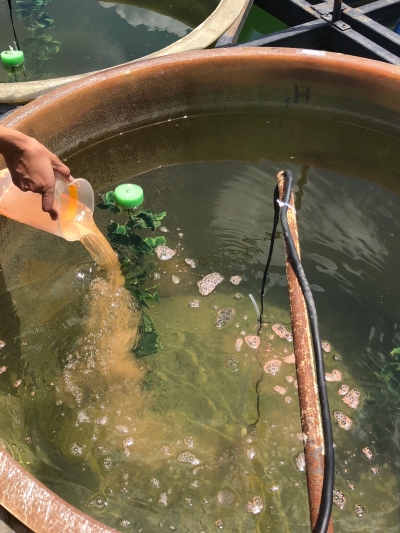 International Cooperation
We had 2 TA Access teams with projects MICROFREAK and EMPOWER, comprising scientists from Serbia, USA, Czech Republic and UK.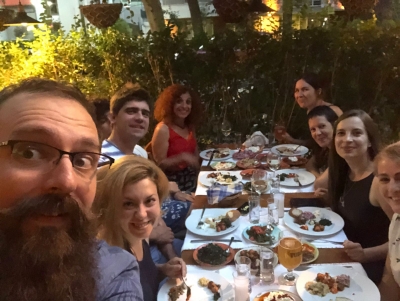 Team MICROFREAK:
Team Leader
Asst. Prof. Boris Jovanovic, Natural Resources Ecology and Management, Iowa State University, IA, USA
Team Members
PhD student Jelena Stankovic, Department of Biology and Ecology, Faculty of Sciences and Mathematics, University of Niš, Serbia
PhD student Dimitrija Savic Zdravkovic, Department of Biology and Ecology, Faculty of Sciences and Mathematics, University of Niš, Serbia
Asst. Prof. Djuradj Milosevic, Department of Biology and Ecology, Faculty of Sciences and Mathematics, University of Niš, Serbia
Team EMPOWER:
Team leader
Assoc. Prof. David Boukal, Department of Ecosystem Biology, University of South Bohemia, Czech Republic
Team members
Dr. Heidrun Feuchtmayr, Lake Ecosystems Group , UK Centre for Ecology & Hydrology-CEH, UK
PhD student Derya Öztürk, Aquatic Ecology Lab., Department of Ecosystem Biology, University of South Bohemia, Czech Republic
PhD student Lucie Vebrova, Aquatic Ecology Lab., Department of Ecosystem Biology, University of South Bohemia, Czech Republic
PhD student Jessica Richardson, Lake Ecosystems Group , UK Centre for Ecology & Hydrology-CEH, UK